Modular kitchen are a great option for homeowners who want a stylish and functional kitchen without breaking the bank. They are made up of pre-made cabinets that can be assembled on-site to fit the available space, making them a flexible and customizable option. The Modular kitchen design is helps you to make more attractive your kitchen.
Plan your layout. The first step is to plan the layout of your kitchen. Take into account the dimensions and form of your area, as well as your cooking practices. Some common layouts include L-shaped, U-shaped, and galley kitchens.
Choose your cabinets. The cabinets are the most important part of your modular kitchen. They come in a variety of styles, materials, and finishes, so you can choose the ones that best suit your taste and budget.
Add storage. Modular kitchens offer plenty of opportunities for storage. Consider adding pull-out drawers, lazy susans, and other features to maximize your space.
Select appliances. When choosing appliances, consider your needs and budget. You will need a range, oven, refrigerator, and dishwasher, but you may also want to add a microwave, toaster, or other appliances.
Finish the details. Once the cabinets and appliances are in place, you can add the finishing touches to your kitchen. This includes things like countertops, backsplash, and lighting.
Consider the traffic flow in your kitchen. Ensure that there exists sufficient room for comfortable movement. Use the space wisely. Don't left-over any space in your kitchen.
Add Beauty to your Modular kitchen design
Choose colors, finishes, and accessories that suits your style. Don't forget the functionality. Make sure that your kitchen is functional and easy to use. With a little planning and effort, you can create a modular kitchen that is both
stylish and functional.
Here are some of the benefits of choosing a modular kitchen in Delhi:
Flexibility: Modular kitchens are flexible and can be customized to fit any space. You can choose the size, shape, and layout of your cabinets, as well as the materials and finishes. This makes them a great option for small or oddly-shaped kitchens.
Cost-effectiveness: Modular kitchens are a cost-effective option, as they are pre-made and can be installed quickly. You can contact a talented to do it for you.
Durability: Modular kitchens are durable and can withstand everyday wear and tear. The cabinets are made from high-quality materials, such as wood, laminate, or acrylic, and they are designed to last for many years.
Maintenance: Modular kitchens are simple to clean and maintain. The cabinets are smooth and have no nooks or crannies where dirt and grime can build up.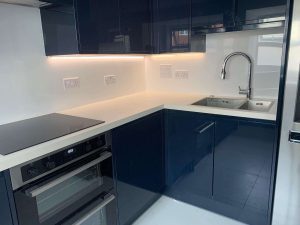 Customization: Modular kitchens can be customized to reflect your personal style. You can choose the different colors, finishes, and great accessories that you like. This makes them a great way to add personality to your kitchen.
Remodelling: Modular kitchens are easy to remodel. If you want to change the layout or the colors, you can do so without having to replace the entire kitchen.
If you are looking for a stylish, functional, and affordable kitchen, then a design Indian kitchen is a
modular kitchen dealer
having great option for you. They have professional workers and architect who perform perfect task. I hope this guide helps you design your dream modular kitchen.